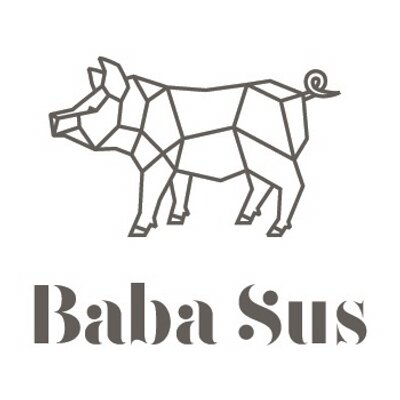 15-17 Bardolph St Glen Iris, VIC 3146
After hearing about how good the Hong Kong Egg Waffles at Baba Sus are, of course I had to go and check it out for myself. Baba Sus, was opened only a year ago, by "the father pig" who wanted to share memories of some of his favorite childhood foods.
The cafe is located right next to Burwood train station, away from the busy Toorak road. Instead, the cafe is tucked away in amongst peaceful suburban streets and houses. As I was following my GPS to the cafe, I was beginning to double guess myself, thinking, did I enter in the wrong address because it felt a bit unusual for a cafe to be hidden away from the main streets. The inside of the cafe is warm and relaxed, with pretty dangling lights hanging over the counter.
When we arrived, it was right at peak time, so we had to wait around 15 min. We managed to get a table outside. As we sat and waited for our food to come, I couldn't help but notice how many people were coming in and out of the cafe.  Many of them were locals who walked over from the nearby houses.
The cafe serves fusion food where a modern twist of traditional Asian flavors meets western cooking. We ordered the The Piglet (a pork omelette with spinach and Asian shoots), The Baba Sus (pork belly with apple fennel puree & paw paw salad), and The Outcast (avocado, kale, tomato, grilled halloumi w/ poached eggs on toast). Of course the meal wouldn't be complete without ordering the Hong Kong Egg Waffles for dessert.
The Piglet Omelette was delicious! It was a very light dish, packed with a generous amount of porky chunks, shoots, and spinach. It was my favourite of the 3 savory dishes ordered.
The Baba Sus pork belly was a bit small in my opinion, but the belly was crisp, fresh and oozing with juice. The pickled vegetables were a perfect complement to go with the fatty pork belly.
The Outcast dish was your traditional brunch style meal. I really like the pumpkin seeded bread that came with the dish. For once in a long while, the bread that I was served was just lightly toasted and not burnt (brownie points given for that haha!)
As for the Egg Waffle, it was amazing. Looking at photos from Instagram, I thought it would be a very heavy and very sweet dish. In actual fact, it was the perfect amount of sweetness, and surprisingly, very light. I liked having that crunch from the praline, but also that silky smoothness from the custard. The berry compote was light, not overly sweet or sour. As for the green-tea ice-cream, it had a bit of a rose flavour to it. Overall, all the elements about the waffle dish worked. I would definitely eat it again.
 In Summary
 Baba Sus is located next to Burwood Station, tucked away from the busy Toorak Road. It's a bit of a hidden gem actually.
Specializes in fusion food!
Would definitely recommend The Piglet Omelette (vegetarian option available)  and the Hong Kong Egg Waffle.
Not too pricey! For 4 dishes and 3 drinks, it was only $70 (at other cafes, it would been way over $90).
Rating: 10/10